Every house has a roof. Every roof needs someone to take care of it. Chances are that you don't have the time or expertise necessary to do so, which is why it makes sense for you to search for a contractor you can rely on for your residential roof repair in Plymouth, MI.
But when should you actually reach out? Is fall really the best time to work with a professional to keep your roof in shape? It certainly is, for three main reasons.
1) Get Your Roof Inspected Before Winter
Of the four seasons that residents in Plymouth experience each year, winter is the harshest on your roof. Especially during heavy Michigan snowfalls, your roof could sustain damage that becomes costly to repair.
Worse, existing damage on your roof will be made worse. A loose shingle, for instance, may lead to major leaks while water enters, contracts, and expands during the frost. As a result, a roof inspection before winter is absolutely vital.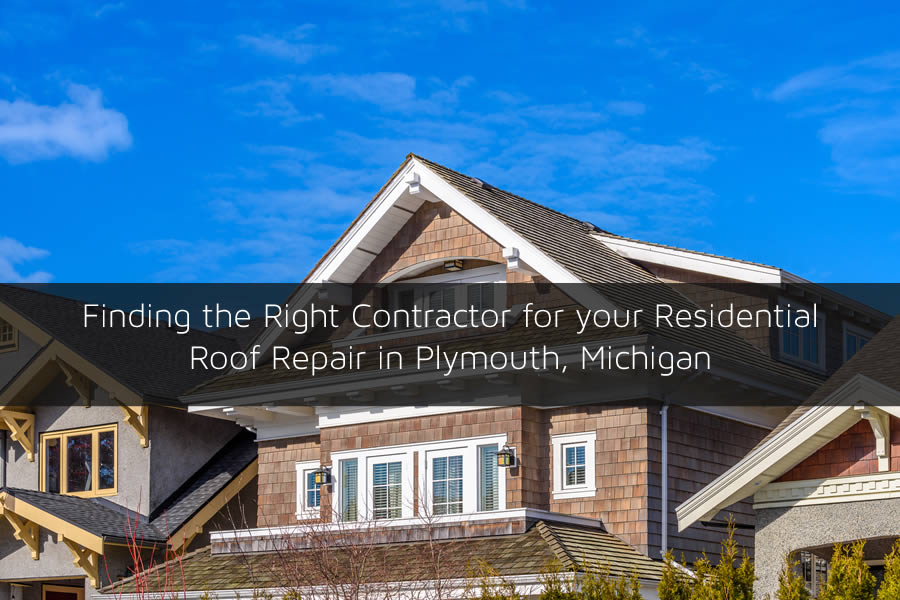 2) Get Ahead of Long Customer Queues
Because of the above, of course, you might also run into long waiting times as you look to work with a roofing contractor to inspect your roof and take care of any potential damage. Schedule an inspection and potential repair for October, and you might not actually be taken care of before November or even December.
Worse, the problem is more significant for contractors who have gained a reputation for quality inspections, repair, and replacement work. If you don't want to or cannot wait, but don't make the call until October, you might be left with someone whose work is less reliable.
Scheduling your roofing inspection now, of course, takes care of that issue. Even if you do have to wait, you can rest assured knowing that your roof will be checked out before the season changes and further damages become possible.
3) Get Major Repairs Taken Care of Now
Nobody wants it to happen, but that doesn't diminish the possibility: a roofing inspection may find a major issue. That issue, in turn, may lead to a significant repair, or even a complete replacement of your roof.
When that happens, you want and need to be able to take care of the problem immediately. Your home insurance might cover it depending on how the damage was caused and your exact policy, but only if you don't wait and make things worse.
Of course, even without taking the insurance into account, any major issue with your roof needs to be addressed right away. If you don't, you risk not just making it worse, but through water damage actually endangering the rest of your home in the process.
By contacting the right roofing contractor today instead of waiting, you can avoid all of these problems. Even if the inspection turns up an issue larger than you had hoped, there will be plenty of time for repairs before winter storms hit.
Can You Inspect Your Roof Yourself?
Phrased differently, do you really have to work with an external company to determine whether your roof needs repair? Not necessarily. You can spot some of the most common problems with your roof simply by taking a look yourself. Look for:
holes in your shingles
peeling or otherwise damaged shingles
missing shingles on your roof
water damage on your roof
When you notice any of these, contact a roofing contractor right away for further inspection. But even if you're uncertain about whether your roof is actually in good shape, it makes sense to do the same. Look for a roofing company in Michigan that offers free estimatesto stay financially safe in the course of the inspection.
How Can You Find the Right Michigan Roofing Repair Company For Your Needs?
Before you even begin to contact roofing contractors in Plymouth, it makes sense to know exactly how to find the best possible professionals for the job. As outlined in detail here, you can accomplish this feat in 4 simple steps:
Eliminate Companies that Aren't Insured, which is an indicator that their repair quality will not be up to your standards.
Eliminate Companies that Aren't Local, which can lead to long timelines and less reliable work.
Don't Judge a Company by Price Alone, as higher-priced contractors may offer long-term benefits such as lifetime leakproof warranties.
Choose Somebody Who'll Give You a Timeline, to help you plan your project in time before harsher seasons hit.
In taking these steps, you can make sure that the professionals you hire will perform quality work, and can perform that work quickly. The first two steps help you narrow your choices down to a few finalists, while the final two help you choose between these finalists in order to find the perfect roofing partner.
If and when a professional finds a problem, ask for a quote on the repair. At this point, it also makes sense to understand how quickly the roof could be repaired. Here, you should also ask about potential warranties for the work before agreeing on a repair contract.
Once you sign the contract, let your roofing contractor guide the relationship. Before you know it, the issue will be repaired, and you will be ready for the next Michigan winter.
All of that, of course, hinges on finding a company who can get any inspection and work done quickly and reliably. That's where we come in. Contact us to get your roofing questions answered, and learn more about inspecting and fixing your residential roof at just the right time.