Any home is only as beautiful as its siding. Put simply, it's impossible for your home to have great curb appeal if its exterior is fading or showing damage. And of course, if the latter is the case, curb appeal is your last worry. Your siding needs to protect your home from the elements, keeping you safe insight both during cold Michigan winters and hot summers.
Whether you're looking to increase the value of your home or simply want to improve your residence, you will sooner or later want and need to replace your siding. Of course, you can find countless siding companies in and around Plymouth, Michigan, so making sure that you find the right partner is absolutely crucial.
You don't want to spend big bucks only to end up with a siding contractor that does less than ideal work. To prevent that from happening, here are 6 steps you can take to find the right siding contractor for your needs in Plymouth, MI.
1) Perform an Initial Search
Of course, your first step has to be finding out which companies are available to actually help you. In this first step, perform a general online search to come up with a comprehensive list of all siding contractors in and around Plymouth that could potentially help you.
This first step is not designed to exclude anyone. In addition to the online search, ask family members and friends in the same area for tips on who to include on your list. The more comprehensive your search, the more likely you are to end up with somebody who can actually help your home.
2) Exclude Uninsured Siding Contractors
Once the initial list is complete, it's time to exclude contractors who may not be ideal fits. The first step in that endeavor is to exclude anyone who is not insured, or does not claim 100% liability for the work they do.
Even if they do great work, you simply should not spend your budget on a contractor who might not complete the work or accidentally damage your home. Instead, look for guarantees that even after the project is done, small fixes and ongoing service are a natural part of the long-term relationship with your siding contractor.
Once the initial list is complete, it's time to
exclude contractors who may not be ideal fits.
3) Focus on Local Experts
Going with a large, national contracting firm can be cheaper, and seem like a great idea. But in reality, the better choice is almost always to go with a contractor that operates in and around the area you live. Here are a few reasons why:
They know the weather. Your siding project will take time, so it's important to work with someone who can plan around and adjust for the unpredictable Michigan weather.
They help you get started. Sit down and discuss your project ahead of its start, free of charge. With local, family-owned businesses, you'll get valuable advice rather than a straight selling job.
They stay in touch. No siding lasts forever. National companies often treat you like quick money, but local alternatives recognize the value of a long-term relationship.
4) Look and Ask for Testimonials
It's easy to claim that you're the best siding company in Plymouth, Michigan. It's much harder, however, to get current and past clients to verify those claims. That's what makes testimonials so important in finding the right partner for the exterior of your home.
Generally speaking, a contractor that does great work will have no shortage of customers who are excited to publicize that work. Those testimonials may not always be listed online, in which case you can contact the company to get customer reviews. The more people you get to verify that the siding contractor does great work, the better.
5) Make Sure the Material is Right
Any siding project is only as good as the material used to remodel your home's exterior. James Hardie siding, for example, has long been known as one of the best options available to home owners, lasting up to 50 years and increasing the fire and storm resistance of your home.
When you work with a siding contractor, you will sooner or later have to choose the type of siding you want on your home. It makes sense to research your options early, making sure that when you have to decide, you already know what works best for you, and which contractors work with the siding you want.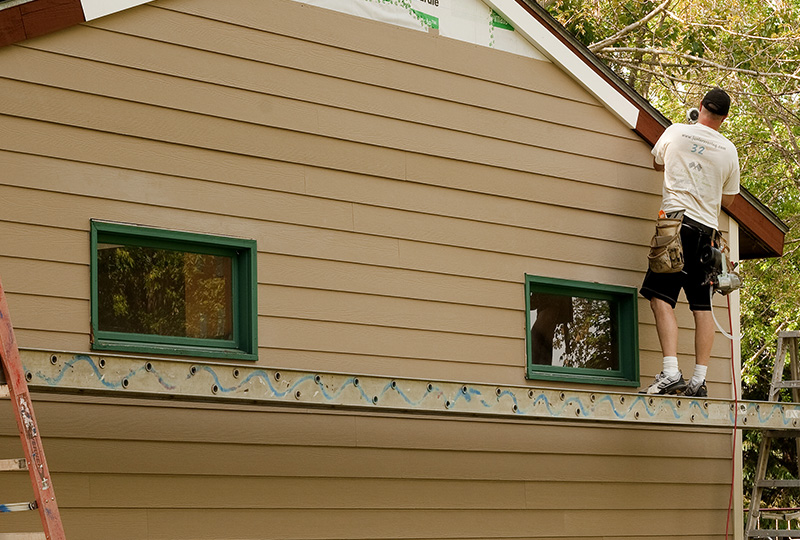 6) Ask for an Evaluation and Quote
At this point, your list should be narrowed down to only one to three contractors that fit all of the above criteria. Now, you can invite them to your home to evaluate your existing siding and home, and make recommendations on how to improve it.
This may also be the point at which you request a quote. Of course, it's tempting to go with the cheapest option, but that is not always the best choice. Instead, find the contractor that is affordable to you, while at the same time fitting all of the above criteria. That way, you can make sure that you will receive quality work and a high return on your investment.
Replacing the siding on your home is a comprehensive project, which is why finding the right siding company is so important. Ultimately, you have to find a contractor who you trust to get the project done right and improve your home for a long time to come. To learn more about how we can help you accomplish just that, contact us.